Last year I started using the hive inspection sheets the EMBA made available.
They are great at recording information about the hive during an inspection. I found them particularly useful when I would inspect more than one or two hives at a time, and needed a way to remember what I'd seen in each one!
The club has updated the inspection sheets with more information on them, enlarged the open area for jotting down notes, updated the back of the sheets with a 10 frame visual instead of 9 and a few other items.
One of my favorite additions is the chart for development times for different castes of bees. Now I don't have to jog my memory for how many days a worker vs queen takes to develop while I'm standing in the apiary looking at a frame full of bees.
For those interested,
here is a PDF you can download and print
.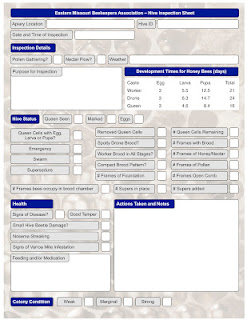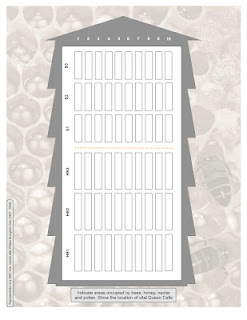 Special thanks to
Phil over at the "Honey Honey...Don't Stop" blog
who created these sheets and made them available.