The Blue Purple hive (shown below) is my favorite hive, and right now they're still packing in the honey.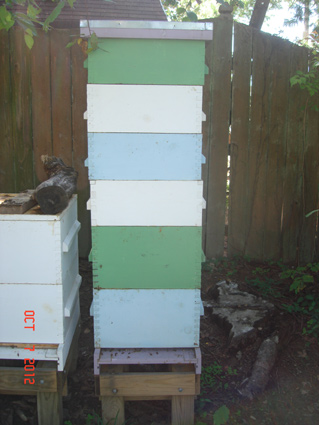 I really enjoy working this hive. It almost never needs smoke, the bees are very gentle and they produce an over abundance of honey!
I needed to check to make sure this hive was still queen right going into the winter. I'd really hate to loose this queen's genetic line and/or loose the hive over the winter.
I pulled all the supers off, and looked at the top brood box.
I'll give you three guesses which side of the box the queen is on...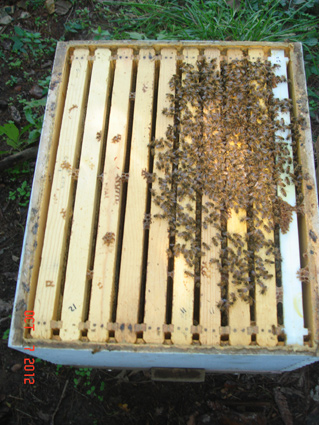 I started pulling deep frames and was amazed at how they were bulging with honey. I'm using a 10 frames setup, and the honey was drawn out way beyond the end bars as if I was only using 9 frames.
Each brood box felt like it weighed 80 pounds (I rough compared it to lifting an 80 lb sack of concrete).
I couldn't hardly manipulate the frames w/o damaging stored honey, so I left them alone, only peering down between them.
I finally found a couple frames of capped and uncapped brood. Whew- the queen was still in there.
I closed them back up, but not without first taking a moisture reading on the supers. I'm hoping to extract them and "put this hive to bed" so to speak, for the winter soon.
Super 1: 21%
Super 2: 18.5%
Super 3: 16%
Super 4: empty
Here's a question for the readers
: Will extracting supers with different levels of moisture actually mix in the extractor and combine at an average moisture level? Or is the honey too thick to mix and the higher moisture content super will ruin the whole harvest?
If my math is correct (21 + 18.5 + 16) / 3 =18.5 % average?
I think I'm going to leave them on at least another week, and will test the 21% super again, and hopefully they'll have the moisture lowered a bit.