Talk to any child who's ever been stung by a honey bee (
my own kids included
) and they'll tell you without a doubt that bees have stingers on their abdomen for defense.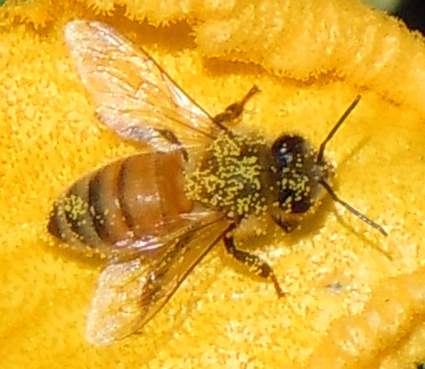 As it turns out, researchers have discovered that honey bees can bite too, and that the bite contains a natural anesthetic.
Apparently this discovery was announced sometime back a few weeks ago but I completely missed seeing the announcement, so I'll post it here in case you missed it too.
The surprise findings were discovered by a team of researchers from Greek and French organizations in collaboration with Vita (Europe) Ltd, the UK-based honeybee health specialist.
The natural anesthetic that has been discovered in the bite of the honey bee and measured at the University of Athens is 2-heptanone (2-H), a natural compound found in many foods and secreted by certain insects, but never before understood to have anesthetic properties. Independent tests have verified Vita's findings and the potential of 2-heptanone as a local anesthetic.
Until recently, research seemed to indicate that 2-heptanone was either a honeybee alarm pheromone that triggers defensive responses, or a chemical marker signalling to other foraging bees that a flower had already been visited.
A team led by biologist Alexandros Papachristoforou of the Aristotle University of Thessaloniki in Greece was looking for ways to control wax moths. The moths are a problem for beekeepers as they invade hives and stored honeycomb frames consuming wax and pollen and often completely destroying the honeycomb.
At first, the team thought exposure to the chemical 2-heptanone (2-H) killed the wax moths.
"However, on closer inspection, we realized that the wax moths were merely anesthetized for a period of one to nine minutes," Papachristoforou said. "This was quite unexpected, so our scientific team set up a series of rigorous experiments to find out what was really happening and came up with our remarkable discovery."
Their findings were
published over at the online journal Plos One
.
The full article is a pretty neat read, so I won't go into all the details here, but basically the research shows that honey bees bite intruders such as wax moths and varroa mites that are too small to sting.
Below is a video from Vita showing a honey bee biting a wax moth larva.
Once the invader is anesthetized and immobilized, it can be thrown out the hive without struggle.