Today I bottled the
Blackberry Mead
and the
Fall Harvest Cyser
that I started last summer.
They had been sitting on my workshop bench, wrapped in a blanket to keep out the light and were under quite a layer of dust.
The jugs in order of left to right are: Fall Harvest, Fall Harvest and Blackberry. I decided to make a double batch of the Fall Harvest in case it was as good as I'd heard it was.
The placement of the MeadMaker book in the corner of the picture is not an intentional advertisement, it just happened to be still be sitting there from the last time I used it as a reference.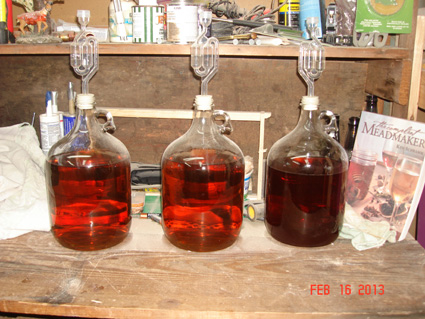 I was working mostly alone during the bottling process, which if you've ever worked with getting a siphon started by yourself especially with the use of a bottle filler wand attached (which must be depressed when the siphon is started) you'll know it can be an a tricky task.
I did manage to get the siphon started and snapped this picture of the Blackberry Mead as it flowed through the tube.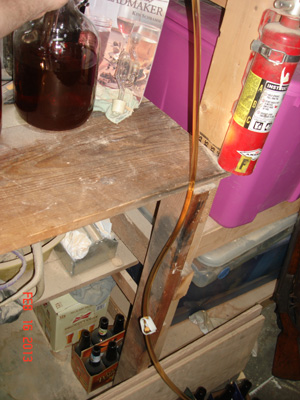 The final gravity of the blackberry mead was 0.996 according to the gravity measuring device I had.
The starting gravity was: 1.100 and
according the calculator on this site
, the alcohol content of the Blackberry mead is: 13.66 % ABV.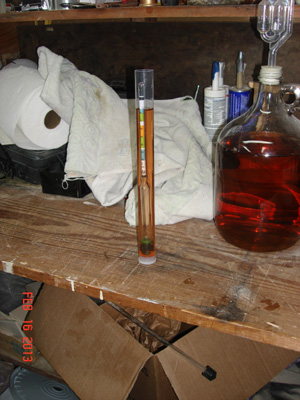 The final gravity reading of the Fall Harvest was 1.000. It started with a gravity reading of: 1.115 and according to the same calculator the alcohol content is at: 14.96 % ABV.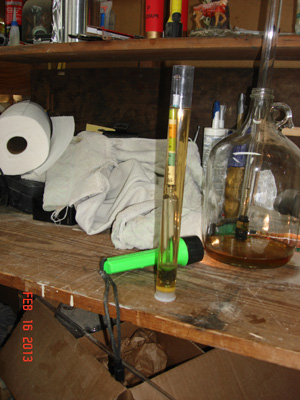 I didn't have wine bottles and a wine corker, so I put the mead into beer bottles. Maybe it will help someone else who is on the fence about using beer bottles as opposed to traditional wine bottles. If so, fear not - brew and bottle in what makes you most comfortable.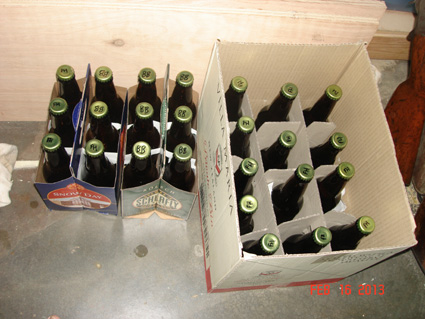 The labeling schema on the top of the caps is as follows:

No letters
traditional mead
Brewed on: 7/11/2012
Bottled on: 9/17/2012
ABV: ?
Letters "BB"
Blackberry mead
Brewed on: 7/14/2012
Bottled on: 2/16/2013
ABV: 13.66 %
Letters "FH"
Fall Harvest Cyser
Brewed on: 10/17/2012
Bottled on: 2/16/2013
ABV: 14.96 %
The final picture today is of the traditional mead I brewed and bottled last year.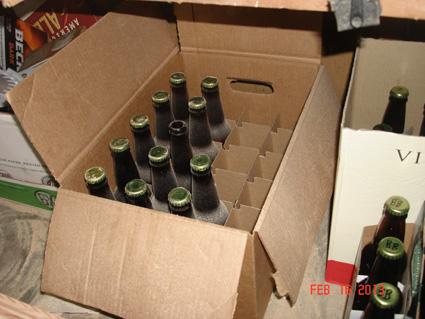 I love how they've accumulated dust already. It makes them look more authentic I think.