Today I finally got around to putting the insulating foam in place between the inner cover and the outer cover of my
remaining hive at home
.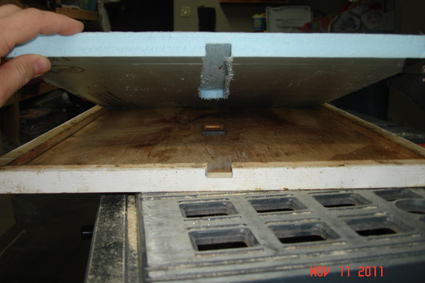 I also propped up the outer cover with a stick to ensure it had plenty of air gap to allow warm moist air to escape from the hive so that moisture doesn't build up during the winter.
I've run with screen bottom boards since I've started beekeeping, and I like them a lot. I've always left them open during the winter and I think I'll do the same this winter.
Aside from checking on this hive periodically through the winter, I'm about done in the apiary until spring.
On a different topic, I'd like to do a little maintenance on the blogroll on the left navigation of this site. I've got some blogs that I follow that are informative, funny and just plain enjoyable to read linked over there.
Some of them have gone stale, as in I'm pretty sure the blog owners abandoned their blog, as they haven't been updated in quite some time.
Additionally, I'm sure there are blogs out there that I've not read before.
If you've got a blog that I don't have listed, or you follow one you think I should add to my list, please
send me an email
or leave a suggestion in the comments below.
Thanks!