We recently made gingerbread cookies for a holiday party that uses honey in the recipe and they're stamped in the shape of bees.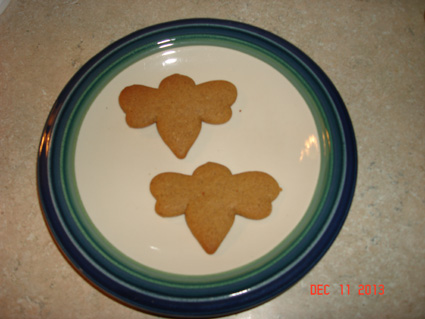 Here's the recipe:
Honey Gingerbread Bees


Makes about 1 1/2 dozen 5 inch cookies




6 cups flour

1 tsp baking soda

1 1/2 tsp salt

4 tsp ground ginger

1 1/2 tsp ground cloves

1 tsp ground nutmeg

1 cup shortening

1 cup sugar

2 large eggs

1 1/4 cups honey

1/4 cup molasses

Royal icing for decorating




In a medium bowl whisk together flour, soda, salt and spices; set aside.




Preheat oven to 350.




In large mixer, beat sugar and shortening until light and fluffy. Add eggs one at a time beating at slow speed until just blended. Beat in honey and molasses. Gradually beat in flour mixture at low speed. Divide dough into 3 pieces; wrap in plastic wrap, and chill at least 1 hour.




Cut 3 sheets of parchment the same size as your baking sheets. Lightly dust parchment with flour. Working with one portion at a time, roll dough 1/8 inch thick on parchment. Cut out people with cookie cutters, leaving 2 inches between cutouts, carefully slide parchment with cutouts onto cookie sheet. *Remove scraps from around cutouts. Bake at 350 for 8-10 minutes.




Slide parchment off sheets onto counter to cool, until cookies are set, 2-3 minutes. Move to wire racks to finish cooling. Cool completely before decorating.




*scraps can be kneaded to make more cookies, but will be drier each time the dough is reworked.