This weekend the weather was dry and 65*F. I took the opportunity to open each of the 3 hives at my house and look through them for signs of a queen, brood, honey stores etc.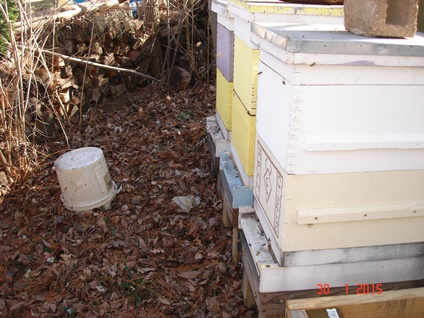 I checked them in order of closest to the yard fence working towards the playground, shown as closest to farthest hive in the picture above.

The closest hive above has a totem (logo) on it that is from my
Wood Badge
participant training last fall.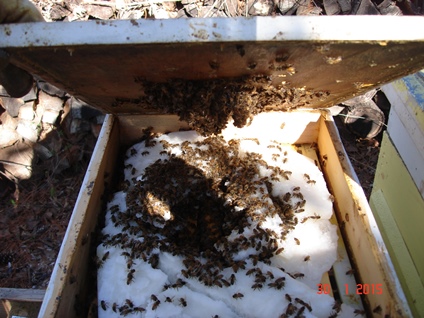 That hive has lots of left over sugar mush from December. The colony strength is good, they're covering 10 frames in the top box, I didn't bother looking in the bottom box, because on the first frame I pulled of the top box, I found the queen and a patch of brood.
The brood is the larger yellow circle, the inner circle is the queen. She's marked, and was born last fall.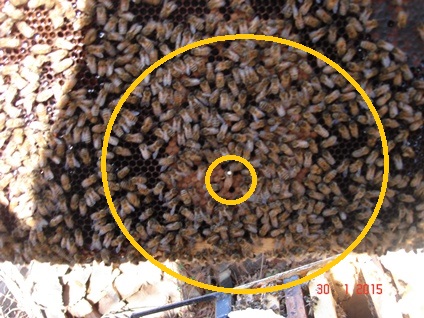 The next hive (middle hive) is the strongest of my hives currently. They've almost completely consumed the 10 lbs of sugar that I gave them, and some of their frames are completely empty of honey. They still have 5-10 frames of solid honey in them, so I'm not going to add any more sugar mush right now, but will keep any eye on them in the next month.
I found eggs in this hive on the first top frame I pulled, but didn't see the queen. Not wanting to disrupt them, I closed them back up. Will try to look for and determine if the queen is marked in the next inspection. My logs show she was not marked last fall, so it should be fun trying to locate her when the colong size starts exploding in a few weeks.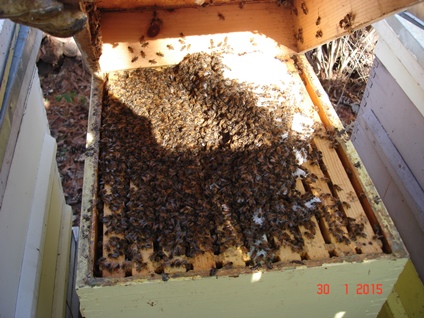 The third hive had a big cluster of bees hanging from the inner cover, and then had consumed more than 50% of their sugar mush since December.
I pulled two frames in the top box, both had eggs and brood on them. I also found the queen, although I think she's from two years ago, she's "looking old" and the paint on her abdomen is almost completely worn off.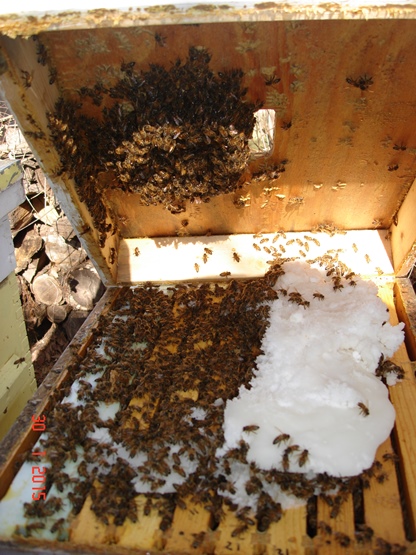 Right now I think all hives are going to come through the winter in plenty of strength (knock on wood).
I did see a small hive beetle on a frame in the middle hive and last hive, which concerns me that on the one or two frames I pulled, I saw a beetle already. I'm going to have to research beetle traps this year. Please leave a comment below if you've used small hive beetle traps and have had good luck, what type you used, etc.
I'm thinking SHB may have been the downturn of at least one of our hives last year, so this year I'd like to do something about it other than ignore them.