In the spring of 2016 I made a medium super and
sealed it with a mixture of beeswax and linseed oil
.
I used the super for a few months over the summer and then took it out of rotation.
I was very pleased at how well it seemed to hold up in the rain, sun and weather, even if it were only for a few months.
I made two nuc boxes this week in preparation for the spring splits, and decided to
brand them with my bee brand
and then seal them with linseed oil.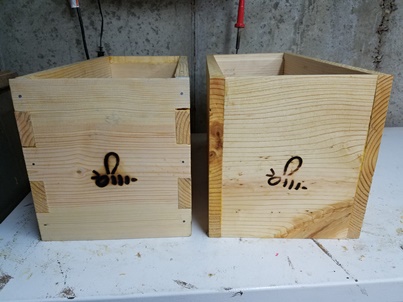 The one on the left is made with box joints and the one on the right is a simple butt joint box. Both boxes are glued together. The one on the left is nailed, and the one on the right is screwed.
The box on the left is made with the
same recipe
as before (with beeswax) and the one on the right is pure linseed oil only (no beeswax).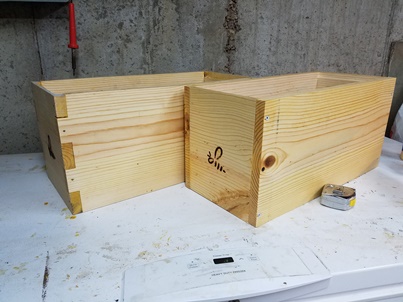 With the beeswax one (on the left) the mixture dried almost on contact, presumably because the wax cooled very quickly when spread thin. The one without beeswax seemed to allow the oil to soak into the fiber of the wood before it dried, creating a deeper color in the wood.
In the springtime, I'll use these two nucs, side by side, when I make spring splits, and we'll see how they hold up for a long period of time, and compare the use of wax versus no-wax in the recipe.