My beekeeping mentor asked me recently how my mite levels were looking in the hives. "I have no idea" was my response back to him.
Designer replica watches are the mirror image of its original ones and with low price so now popularity of designer
rolex replica
is increasing among fashionable people. And it should be a wonderful option to own a stylish
replica rolex watches
.We have amazing
Replica Rolex
Panthere Vendome Replicas of high-end watches of all companies including that of replica Fake Cartier Panthere Vendome watches.We are renowned dealers and experts in Luxury Watches over years experience. We trade in many high quality brands including: Tag Heuer, Rolex, Patek Philippe, Blancpain.
Hublot Replica
brand name created a name for themselves due to the simplicity of their philosophy: superb craftsmanship combined with the endless search for beauty and innovation. We are sure your loved ones will be happy you did. SATISFACTION is always 100% guaranteed as posted on our site.Our company has been known for our ability providing a large selection of trendy
Replica Watches UK
that can cater to many buyer from all over the world, and the price is very competitive.
He suggested that I perform a "natural drop" mite drop onto a sticky board test for 24 or 48 hours and then count the mites. Since I use screened bottom boards with a slot for an insert, I figured this would be a fairly easy process.
Procedure
:
Basically, you find a way to make the bottom board insert sticky by using oil, double sided tape, petroleum jelly (Vaseline), etc, and placing it in the hive for 24 hours. Then remove the sticky boards, and count how many mites naturally fell off of bees and got stuck to the boards.
Natural Drop/24hrs Infestation Levels
(
source
)
0-8 Low
8-15 Moderate
15-30 High
30+ Critical
I went into the basement and found the two (one for each hive) wood inserts I had made for the screened bottom boards.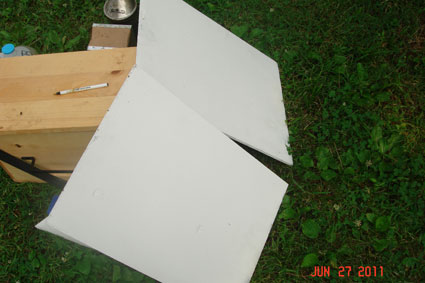 I then made a quick trip to the store to get a jar of petroleum jelly. It didn't matter that we have one in our medicine closet, and have never used it, I just figured it was
safer
(for me) to just buy an extra jar than to use up my wife's house supplies.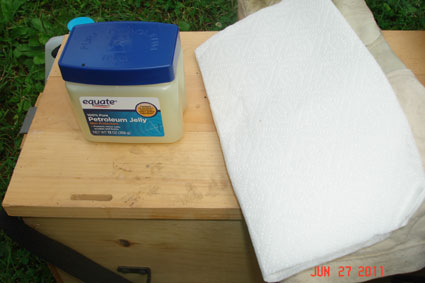 I took paper towels and smeared on a decent layer of the jelly onto the board.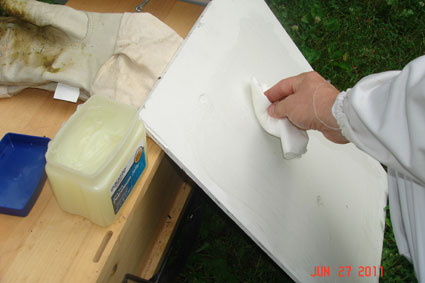 You can really see the color different below when I tilted the board away from the camera.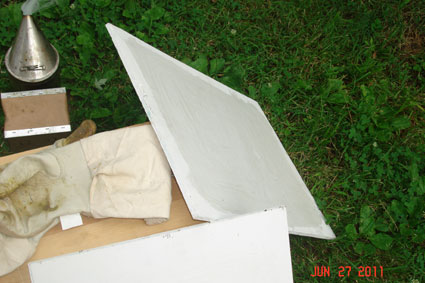 Then I slid the board into the slot of the screened bottom boards.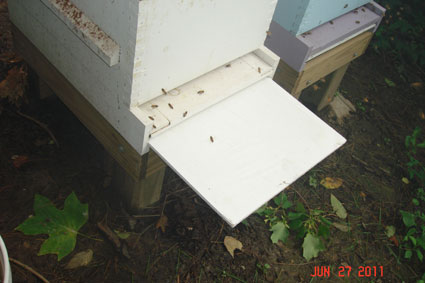 And pushed it all the way in; I worked quick so none of the bees flying in/out would get curious and land in the jelly.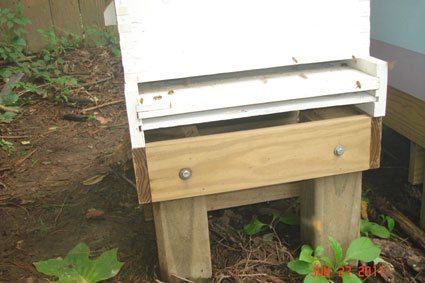 Results
After 24 hours, the white hive had 4 mites stuck to the board, and the blue/purple hive had 1.
These numbers are well within the acceptable level according to the chart above, but I was surprised they were so low since we don't treat our bees with anything.
So I left the boards as they were and stuck them back in for another day.
After 48 hours, the white hive had a total of 8 mites stuck to the board, and the blue/purple hive had 3.
Again within acceptable range for both.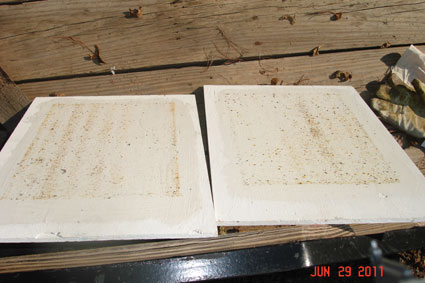 So what exactly are you looking for when you remove the sticky boards? Aside from the ants, wax flakes and occasional bee parts, you're looking for very tiny brown mites.
Here is a stock photo on a mite.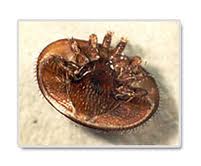 To me they seem about the size of seed ticks, or maybe a bit larger. In the picture below you can see one of them up as close as my camera would go.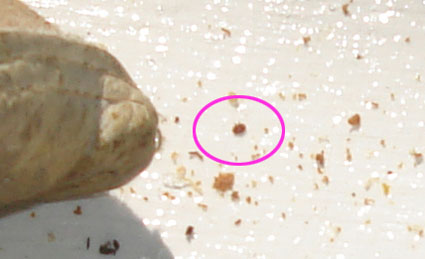 For reference of size comparison, that's the tip of my finger/glove in the picture pointing to the mite.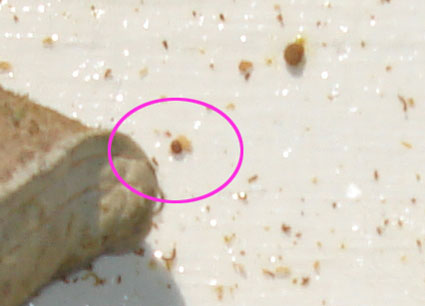 What To Do Next
According to the chart, my mite levels are "ok" right now.
But what to do when the mite levels reach the moderate, high or critical levels? The answer to that depends on your view of chemicals (or what type/amount of chemicals) you're comfortable with in your hive.
There are several methods of controlling mites including:
Oxalic acid Vaporizer
Interrupting the brood cycle (mites need brood to survive)
Power Sugar Dusting
We would like to remain chemical free, and even though these numbers are low, I plan to perform a Powder Sugar Dusting over both hives once the supers are off for the season.
This process involves lightly sprinkling the bees with powder sugar, and as they clean each other, they will pull off any mites that are present and they will fall through the screened bottom board and be gone from the hive.
While this process won't totally eliminate the mite populate, it will help, and it is in line with our desire to remain as chemical free as possible.
In a few weeks when the supers come off, and we do the sugar dusting, I'll write about the process and let you know how it went.
In the mean time, if you have a preferred method to control mites, let us know in the comments!