Using the
plans I made for hive stands
, I made a third hive stand and set it into place today.
We're making increase this weekend by splitting the blue/purple hive, and using the stand next to it that's been empty since last fall.
I'm going to setup a baited swarm trap and see if I can coax any feral bees (or even other local beekeeper's bees that swarm) to relocate to my apiary. Alternatively, if I find queen cells in one of the hives preparing to swarm, I may move a frame with queen cells into an empty hive and see if they produce a mated queen and establish themselves.
In the picture below, you can barely see around the Honeysuckle plant that is blooming in front of the hives and make out the new hive stand (it's the brightly colored one on the left).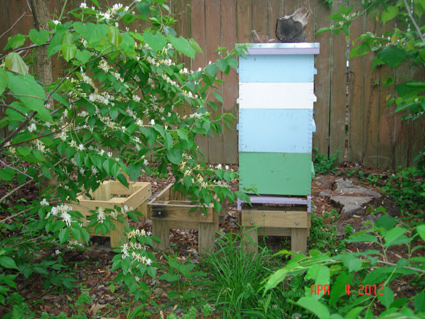 To see it better, I stepped to the side and took another picture around the flowering brush.