This week the weather was strangely warm for January in our region and peaked at 76*F. When I got home from work I took the opportunity to look at the hives.
Last fall the Phoenix hive had a viable queen, laying
a good pattern of brood
.
When I looked at them today, they only had 2-3 frames of bees remaining, and I did not see any eggs or brood. Although it is still early in the year, the other hives already have brood in them, and I don't know what to think of this hive now.
It was pretty easy to find her today and so I picked her up and placed her into the queen marking tube.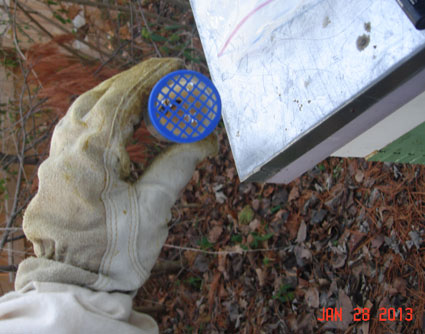 I put a dot of paint on her, so I could find her later (hopefully not frozen in place or dead on the SBB by a cold winter snap).
She was screaming (I could actually hear a high pitch noise from her) and was trying to fly in the tube.
I was afraid that when I placed her back onto the frame, she'd fly away.
Thankfully she just climbed out of the tube and walked onto the frame without further display.
She had an extended abdomen, but not as large as I remember last fall.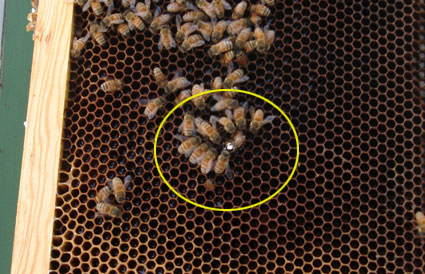 Her attendants went right over to her when I replaced her on the frame. They spent a few moments of inspecting her, then they dispersed.
The queen walked away and disappeared into the frames.
They still have 3 frames of uncapped honey, the frame of uncapped liquid honey shown above, and a bunch of candy.
This hive definitely has me stumped, and I don't have high hopes for them.