I've noticed that when I give a frame of plastic/wax coated foundation (plasticell) to a hive, if they do not drawn it out the first time it's given to them, they seem to ignore it thereafter.
For example, I gave a new undrawn super of plasticell foundation to a hive at the middle of last summer.
The nectar flow was on heavily and they were filling up all my drawn supers so quickly I thought I might get them to draw out a new one before the flow stopped.
As it turned out, the flow stopped and they did not draw out the frames. They walked on the frames, dirtied the frames and maybe even removed small amounts of wax for use elsewhere in the hive.
Here's an example frame. If held just right, you can see they are a dull white (lack of wax) or maybe a tinge brown (from the dirt on the bees feet).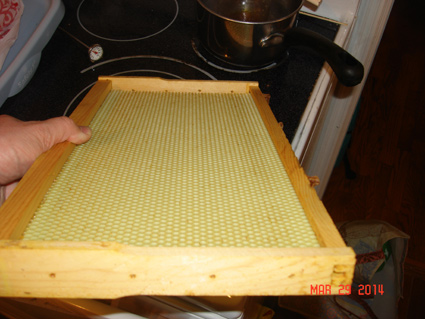 If I were to give them back these frames this year, they most likely would not draw them out, in my humble experience.
In the video below, I've melted some bees wax from last year's harvest and used a foam brush to apply a light coat of new wax to the frames.
Here's what the same frame looks like with new wax applied.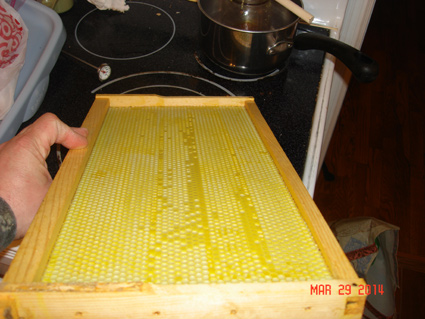 In a couple of areas, I allowed too much wax to drip from the brush and it filled in the bottom of the cells. I'm sure the bees won't mind to move the wax around to where it's needed.
Have you noticed the same thing with your plasticell (if you're using plasticell) if they don't draw out the frame the first time you give it to the bees? Am I just crazy or have ultra-lazy bees?
Update:
On 7/7/2014 I
posted an update which showed the bees did draw out the frames
and use them, which is great news!
Replica Watches, Audemars Piguet Replica, Rolex Replica, Hublot Replica, Hublot Replica, Rado Replica, Richard Mille Replica, Panerai Replica, Patek Philippe Replica, Tag Heuer Replica, Vacheron Constantin Replica