While the weather was warm and sunny I decided to take a look at my two hives at home, and the two at my parent's house to see if they were ready for a second hive body.
As it turns out, two of mine, and one of my parent's hives were ready!
How did I know when to add a second hive body? When 7-8 frames have been drawn out into comb.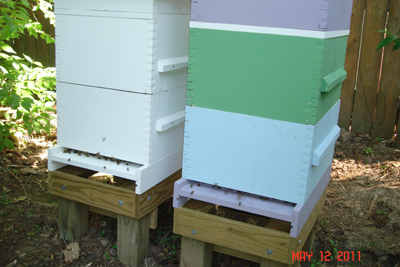 This is the first time I've seen either of my hives take the sugar syrup. They finished one jar completely, and half of the other two jars.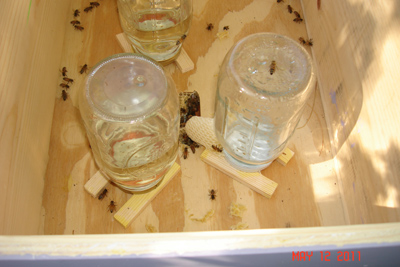 The jar on the right has beautiful white comb built up against it. This is the first time I've seen them build comb in the feeder surround like this.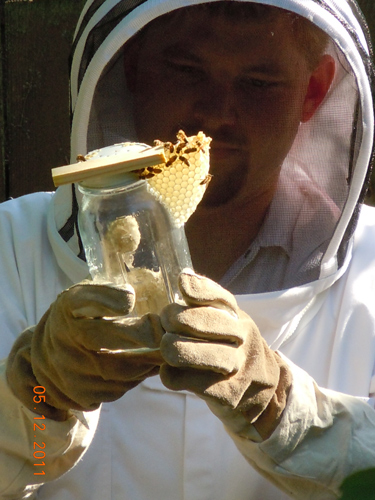 At the EMBA club, several of the members got together and created an Inspection Sheet packet for the members.
It collects information about the weather, the hives in general, the temperament of the hive, information about the queen, amount of brood, pollen, nectar, etc.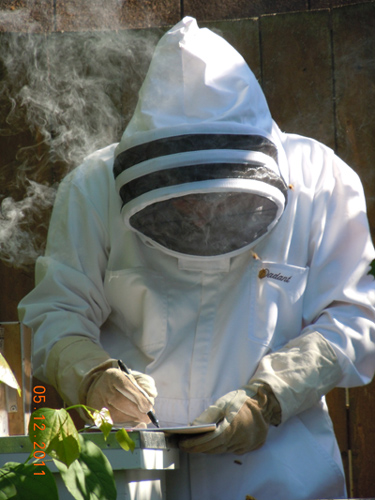 Thanks to those who put these sheets together, it really helps me remember what I saw out in the yard, and keeps my story straight when I go to write these posts.
Speaking of helping to remember, I am reading over my notes right now, and they reminded me that I saw the queen in all 4 hives, and in the white hive I got to see a young bee hatch out of the capped brood cell.
It was quite spectacular and I wish I had gotten it on video.
Some members of the club were asking about how to identify what they are looking at on each frame of bees. Below is a close up of one of my frames, and I've circled several areas. Do you know what's in each area?
Click here to
see a larger version
of this picture.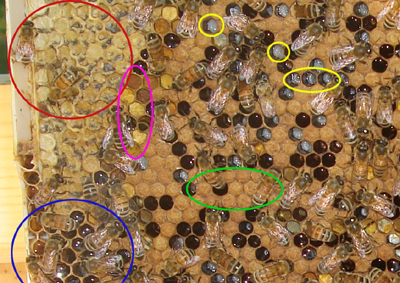 RED: Capped Honey
YELLOW: Larva
BLUE: Uncapped Honey/Nectar
GREEN: Capped Brood
PINK: Pollen